James Mutch born 16 March 1822 in the parish of Auchterless - died 10 June 1900 at Grassiehill in the parish of New Deer

~ His father was Robert Mutch [R9]

~ Spouse Elspet Morrison born 22 May 1829 in the parish of Auchterless - died 1 September 1892 at Whitehill in the parish of New Deer

They married 25 July 1847 in the parish of Rathen

~ Children were:

Last updated: Monday, 20th February 2017

Webmaster's notes:

This family line is listed a E22 in the 1929 Mutch Genealogy. His parents are given as Robert + Isabella Shand [R09]. The two last sons are in IGI but not shown in the book.

Details for son George are taken from his death certificate which I came across during my own family research.

A lot of information on this family has been supplied by Sheila Leith. A detailed listing of the information she supplied, including other generations, can be found under Robert + Isabella Shand [R09].

Sheila has also provided a photograph of son William's youngest son James, her husband's Grandfather: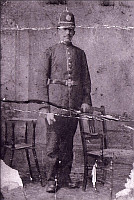 Sandra Dymock has sent me the details of the family of son Robert and Ann Falconer. She is the daughter of James Kerr Mutch 1914-1990.

Sandra has also sent me these two photographs which she believes may be Robert and Ann at different ages: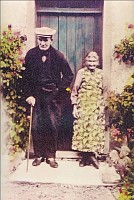 Kenny Bruce has provided updated information on the family of son William, especially his son James + Helen Mitchell Bruce's children.

This updates the information provided by Sheila Leith


"Website created 18th August 2003"




This information was printed from the Mutch Surname Website (www.mutches.com). If you can provide any new information, or correct any of the details above, please send it to the Webmaster at the email address posted on the website.