Peter Mutch born 8 July 1815 christened 22 July 1815 in the parish of Udny - died 2 November 1880 in the parish of Udny

~ His father was James Mutch [J2]

~ Spouse Isabella Ritchie born 1813 christened 1 March 1813 in the parish of Keithhall - died 20 May 1876 in the parish of Udny

They married 30 May 1835 in the parish of Udny

Her father was Alexander Ritchie and her mother was Helen Reid

~ Children were:

Last updated: Wednesday, 20th April 2016

Webmaster's notes:

Information for Peter's death comes from the ANESFHS MI Booklet for Udny.
#276 - Erected by PETER MUTCH farmer Quarry Udny in memory of his wife ISOBELLA RICHIE d. 20 May 1876 aged 60. Said PETER MUTCH d. 2 Nov. 1880 aged 65. Their son JOHN d. 23 Jan. 1882 aged 35.

Details of son Forbes Robertson are taken from ANESFHS Ancestor Chart 10649.

Based on the birth date given for Peter on the chart his parents were James + Agnes Rennie.

Information on son William was provided by Colin Landsberg :

My wife Sandra Isabel is the granddaughter of Peter Mutch who was born about 1876 at Many, Udney, Aberdeen - who was the son of William Mutch who was born on 6.6.1850 at Aberdeen - married Christian Anderson on 11/4/1873 and who died on 11.5.15. Peter Mutch has sisters Christina, Agnes Joan, Annie Isabella Ritchie and Williamina.

Elizabeth Livingston is related to son William. "My g/father was the son of Christina Anderson prior to her marriage to William."

She has kindly provided a genealogy list for Mutches given to her by her aunt. It is actually a list of beneficiaries of Minnie Mutch's will & gives details up to 1970.

She also sent some photographs of William, some of his family and his house: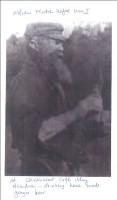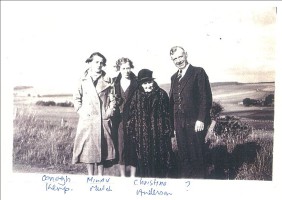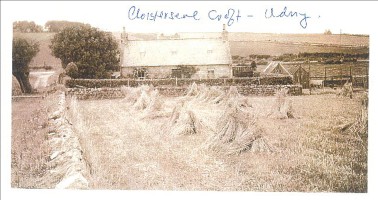 Elizabeth has also produced detailed data on William's wife Christian which is included here.

Gordon Junner has provided more details of Isabella Ritchie and her parents as well as more information on son Peter's wife

I have since found son Alexander's death registration on the Scotland's People website. The informant is his daughter Helen and it confirms his parents.

Sandra Young has provided more details on the children of son Peter, including those of her Great Grandmother Jane Elizabeth. See that entry for more details.

Peta Jenkins is directly descended from the first child of daughter Agnes Rennie. She provided the following details:

"Peter Mutch Davidson was born on the 6 December 1861. His mother was Agnes Rennie Mutch and his father noted on the birth certificate was Daniel Davidson, not present. In fact, Daniel was married to his wife Isabella Paul the very day Peter was born. We have no knowledge of what type of relationship Agnes and Daniel had, only that they produced a son.We have learnt recently that Daniel had not passed on this information to his children from his marriage to Isabella, or if he did it was kept hidden.I have a copy of Peter's birth certificate.Peter Mutch Davidson died 26 Nov 1935, Christchurch, NZ."


"Website created 18th August 2003"




This information was printed from the Mutch Surname Website (www.mutches.com). If you can provide any new information, or correct any of the details above, please send it to the Webmaster at the email address posted on the website.