Parent:Relationships:
Spouse
Christian Byers
born
1790
christened
7 October 1790
in the parish of
Cruden
- died
7 August 1870
in the parish of
Cruden
They married
8 June 1811
in the parish of
Slains
. This marriage is also registered on 9 June 1811 at Cruden.
Her father was Alexander Byres and her mother was Margaret Gawn who were married 29 October 1770 in the parish of
Ellon
. Parent details comes from Christian's death entry in the OPR. Although the mother's name is written as Gawn, it could have been Gavin. There is a mortcloth entry for Margaret dated 23rd March 1833 which names her as widow of Alexanders Byers at Auchleuchries.
Children were:
Last updated: Sunday, 25th October 2020Webmaster's notes:
My own family line goes on through son James.
Additional information including a comprehensive listing of the descendants of Christian + James Watson has been received from Barbara Amburgey.
Additional information on son Alexander can be found in ANESFHS Ancestor Chart 1152.
The 1841 census shows William as an agricultural labourer at Auchleuchries, Cruden. The entry shows Alexander as 25 and the only other child listed is Margaret.
Details of Margaret's marriage comes from the OPR entry for her death which was found by Gordon Will.
Yolanda Bruce has provided a very full and well researched listing for the children of this Family Line and their descendants. You can see fuller details for
daughter Jane
and the extremely complex details for
daughter Margaret
. I am especially grateful to her for confirming John [J72] as a son of this family and thereby fitting another piece in the puzzle. See under his Family Line for full details.
Judith Chumley has passed on the following new information on daughter Margaret's final marriage:
To add to the information you already have for Margaret Mutch born 18.11.1825 I can confirm that she was married at the age of 51 to James Willox on the 24th June 1876. He was a 60 year old widower and farm servant living at Kirkhill of Turnerhall, Ellon.They were married at Auchleuchries, Cruden after Banns according to the terms of the Free Church of Scotland. James Willox died on the 29th May 1882 of Cardiac Dropsy at Mosside, Auchleuchries.

In the 1881 census James and Margaret were living at Backhill, Auchleuchries - he was 66 working as a farm servant, Margaret aged 56 as a staymaker. There is a son Robert aged 4 listed as a Wool Yarn Twister (not sure who his mother is at this point in time) and Christian Chrystall (Margarets illegitimate daughter) aged 34 listed as step daughter and shown as an imbecile.
Matthew Davidson was kind enough to pass on details of daughter Christian's family that he's related to:
More details for the children of Christian Mutch and James Watson - Christian Watson married James Robertson 13th Jun 1857 and died 3rd September 1918 at Ellon (farm name very hard to read). William Watson was born in Cruden, married Grace Coltart 23rd April 1868 at Kirkcudbright, died 8th July 1916 Kirkcudbright. May Shepherd Watson (my 3rd gt-gm) was born Cruden, married James Paul 23rd December 1871 at Hatton, Cruden, died 9th December 1923 at Toddlehills, Longside. James Watson married Jane Watson 17th November 1881 at Hillhead of Coldwells, Savoch. Died on the 9th April 1924.
He included these photos of her daughter May and her family. The first is May Watson & James Paul and the second shows them again with their daughter May and her family.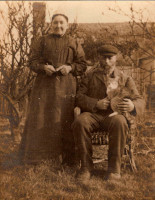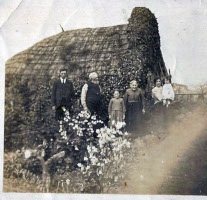 Matthew also provided an update on daughter Jane:
Jane Mutch, daughter of William Mutch and Christian Byers, died 28th February 1865 at Mains of Auchleucheries
and pointed out my error in assigning Christian Byers' parents:
...attached is a copy of the death cert for Christian Byers - I've included this as on the page for William Mutch (1790-1876) it mentions Christian as being the daughter of Alexander Byers and Elspet Johnstone, but the death record states her mother's name was Margaret Gawn. I've got Alexander and Margaret down as being married in Ellon on the 29th Oct 1779. Christian's death informant was husband William Mutch, farm labourer, residing at Auchleuchries, Cruden. The birth and death dates for Christian currently on the page match my own notes. The birth record only lists Alexander's name as a parent but does mention he's at Mains of Auchleuchries.