Webmaster's notes:
My own family line goes on through son William + Jessie Smith.
Valerie Campbell passed on the inscription from the family memorial stone in Ellon churchyard:
In memory of James Mutch son of William Mutch died 23 Dec 1901 age 23 at Meadows Waterton. Lizzie Jaffrey wife of Alexander mutch died 6 June 1902 age 23. Their daughter Jessie Smith died 10 June 1902 age 3 weeks. Also his wife Jessie Smith died 22 April 1905 age 61 and William mutch 3 nov 1911 age 69.
Details of Janet's (Jessie) marriage comes from Gordon Will who is descended from her daughter Isabella Ann Mutch.
Gordon has also provided a great deal of additional details including those of an additional three children Isabella, Alexander and Robert.
Alison Davies has provided the first link between the Scottish & English Mutches. She wrote giving details of her GGrandfather John:
John & Hellen moved south for work and left the land to work in the cotton mills. John became a gas stoker, probably in a mill and Hellen and all the children went into the mills.

All the info I have comes from the English census for 1891 and 1901. John and Hellen Grant (b 1853? Aberdeen) had 10 children. All dates approx to one year
[See John's link for details]
My grandad, George (b 1893), went on to build his own house in Nelson and called it Darrahill, which I believe is the name of the croft where his father was brought up. I have found it on an OS map of the area.
Alison has provided photos of John and Helen, along with one of John''s gravestone in Nelson: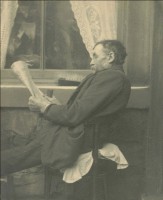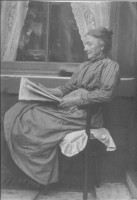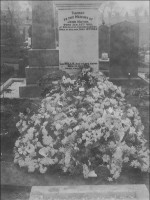 Peter Mutch Rhodes is descended from son John's son Thomas. He has provided the details about Thomas' marriage & children. He wrote:
John Mutch & Helen Grant's sixth child Thomas ,was my grandfather,and his daughter Mildred married Albert Rhodes ,hence I was named Peter Mutch Rhodes. Recently I have established contact with my mother's cousin Helen Mutch,b1924 who married an Australian in 1944 and lives in NSW. She was the daughter of John Mutch,b1888 ,who was the seventh child of John Mutch b1851.
Judith Chumley is also related to this family line. She has sent details of James death:
My own family line also goes on through James Mutch and Penelope Duncan and continues through John Mutch born 1851 and Helen Grant who were my Great Grandparents. During my initial search into the family I discovered that James died from Bronchitis, rheumatic fever and abscesses on his right elbow, knee and ankle joint. He had obviously had a hard life.His death was notified by his son Tom whose usual residence was noted at Mill of Foveran.
Joseph Mutch has contacted me to say:
My father, also Joseph Mutch was born on 3/4/31at Mains of Gallery (Angus) he died last year on 21/2/08. His parents were Joseph Mutch born 11/10/1906 at Mains of Benholm (Kincardine) and Elizabeth Duncan Christie born 16/3/1909 at Menmuir (Angus). His parents were Joseph Mutch born 1/3/1874 in Ellon and Charlotte Walls Wilson born 18/9/1882 in Fordoun. His parents were Robert Mutch and Mary Ann Taylor.
I had originally shown a son James born on the same day as Janet, but Judith Chumley has corrected the record:
One thing I have discovered is that James Mutch and Penlope Duncan have gained a son who does not belong to them. James and Janet are listed as being born on the same date 8th August 1856. Janet does belong to them but James was born on that date but to a Robert Mutch and his wife Isabella Mutch nee Fraser [R10].

In the (Statutory Births 195/00 0049) for Parish of Foveran James is listed on Page 17 and Janet (195/00 0042) on Page 14.
Kavita Kishor Rhodes contacted the site about her husband's connection to this family line:
I am married to Andrew Charles Mutch Rhodes and am tracing his family tree. He is descended from John Mutch (b. 1851) who married Ellen Grant and moved to Lancashire. John's son Thomas Mutch is my husband's great grandfather (Thomas's daughter Mildred Mutch is my husband's paternal grandmother).